Monday, December 17, 2007
at the new blog site.
Rather than posting the new link, I emailed everyone who I think reads the blog (or who has told me at some point that they do, anyway) with the new address.
If you did not get the email and would like the link, please leave a comment on this post or send me an email letting me know, and I'll be happy to pass it on. (My way of getting some of you lurkers out of the woodwork!)
Posted at 03:46 pm by Leigh



Friday, December 14, 2007
Just popping on tonight to say HOORAY for the end of the semester! And to let everyone know that I plan on moving the blog over to a new website this weekend. I'll post again here as soon as I have a link. Until then, hope everyone is merry merry!
Posted at 12:01 am by Leigh



Thursday, November 29, 2007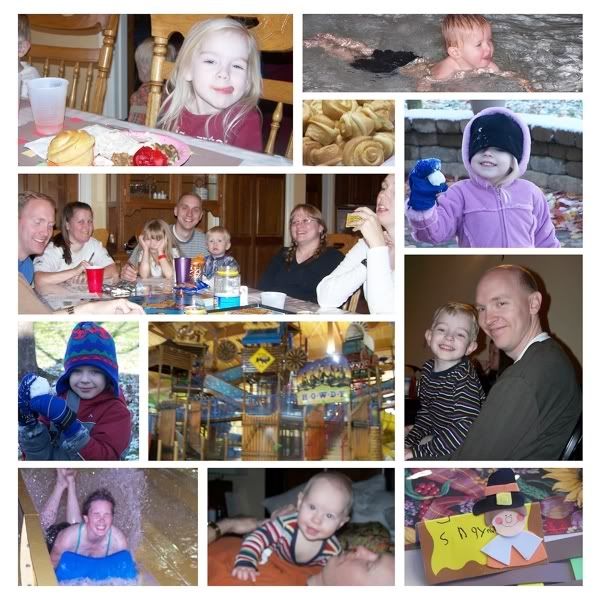 Here's a brief (or as brief as I can be) re-cap of our Thanksgiving vacation...
We took two days the weekend before Thanksgiving to drive to Karisa's home in Ohio. It was such a pretty drive up through Tennessee with all of the fall colors, and the kids did great. We were braced for the worst with Aubrey, so it was actually a pleasant trip.
Karisa has a beautiful house and let 21 family members invade for the week. Phew! Thanks again, Karisa! Once everyone arrived on Tuesday, we all met at a hotel in Columbus for an overnight family birthday party. Why would we do that? Two words: indoor waterpark. Because nothing says celebrate the harvest and season of Thanksgiving like getting in a swimsuit and racing through a giant plastic tube! Yippee! Gracie is already asking when we can go back.
Thanksgiving day back at the house was filled with yummy food, including a hot cheese dip that I love, and plenty of the Moore family's orange rolls. Since this was my first Thanksgiving meal with the Moores, it was really interesting seeing some of the family recipes made by other people; I learned that I make the frosting on Brendon's mom's cinammon rolls totally different than everyone else, even though it is the same recipe.
It snowed just enough Friday to make our Black Friday run incredibly brief and freezing, and for the kids to be able to enjoy some fun outdoor play time later that morning before it all melted. After a bit more shopping, we had a late night playing Loaded Questions and enjoying plenty of laughs until the wee hours. One of the pictures above is of us playing, and I love that little Natalie and William are in it, looking so not enthused. It was probably midnight when that picture was taken; Cameron and Kerry were trying to keep them up so they would sleep in the car the next day. One of the very many funny things I heard at the table that night was Kerry saying to William, "Oh you're so tired...here's some chocolate!!"
Saturday morning we headed out for another two-day trip home. This time, though, Shayne had an ear infection, cough, and pink eye. Fun! All I can say is, it could have been worse...we could have hit a deer, gotten a flat tire, and had the car battery die on us (which happened to Cam and Kerry on the way over), or we could have been stuck in Chicago O'Hare for hours on end because of weather delays (happened to Brendon's mom and dad), or we could have been traveling with a three-month old and had the airline lose our luggage (as happened to Tyson and Kimmy), OR I could have had an anaphylactic reaction to some unknown substance and ended up in the ER the night before Thanksgiving (Poor Amberly!). Yep, I think I'll take a five-year old on some antibiotics any day.
It was a good trip. We saw a part of the country we'd never been to before (Sometimes, when I see these other places and how pretty they are, I can't help but ask, "Why do we live where we live, again?" Then I freeze because of the cold and those thoughts seem to dissipate pretty quickly.) We got to see and spend time with family, and the kids got plenty of quality cousin play time. Top that all off with orange rolls, mashed potatoes, and pie, and it was a really good trip.
Posted at 03:09 pm by Leigh



Thursday, November 22, 2007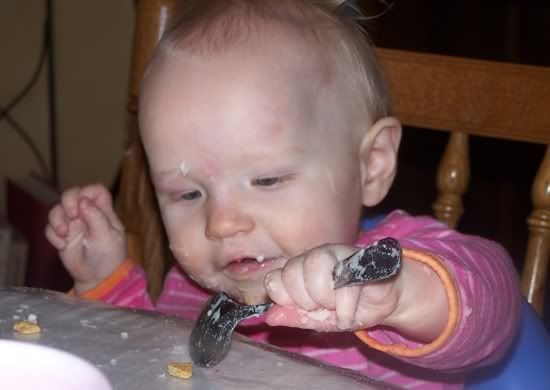 Just checking in from O-hi-o where we're having a big time with the Moore family. Aubrey enjoyed her first Thanksgiving dinner today, as you can see. (Today also marked nine months for her...can you believe it?!)
Hope you all had a happy one!
Posted at 09:49 pm by Leigh



Wednesday, November 14, 2007
what Brendon has been up to lately?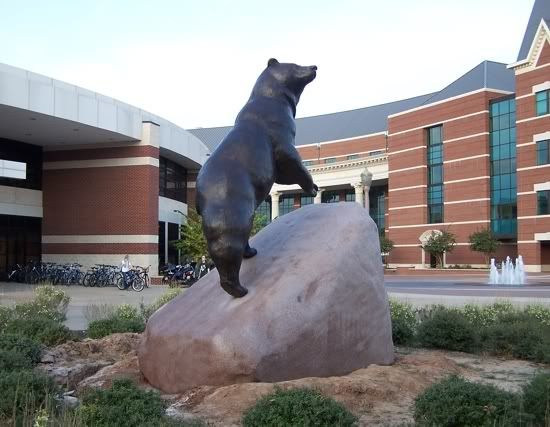 They installed this new monument at the university this week. The picture does not do justice to the size of this thing. It is HUGE! Pretty cool, eh?
Posted at 10:50 am by Leigh



Tuesday, November 13, 2007
Self, while we're talking...
let me remind you of one other thing.
Just because you have backed out of the garage and driveway hundreds of times before with nothing obstructing your path does not mean it will always be that way.
Trust me.
So please take two seconds to scan the driveway when you open the garage door. It won't be hard to miss the big green truck in your way if you do that. And your rear bumper will thank you.
That is all.
Posted at 01:52 pm by Leigh



Monday, November 12, 2007
If you have extra dishes lying about when you get a call that company will be over in five minutes, please do not hide those extra dirty dishes in the oven.
Especially if those dishes are two plastic bowls.
Trust me, the embarrassment of a few dirty dishes in the sink is nothing compared to the mess you will have on your hands when you have forgetten about them and turn on the oven to cook breadsticks a few days later.
So self, please remember what a 350 degree oven can do to two large plastic bowls. And how it smells. Definitely don't forget that.
Posted at 01:51 pm by Leigh